09.11.2023
One of the largest Czech banks, Komerční banka, is selling one of its buildings at 42 Wenceslas Square. However, neither the price of the transaction nor the new owner has been disclosed yet. The transaction was first reported by the online daily newstream.cz.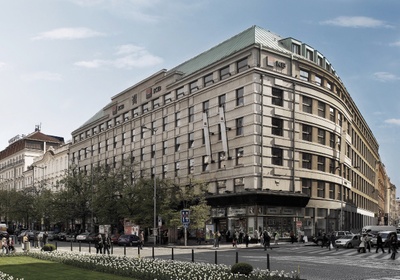 The move is related to the long-term strategy, as the bank started to reduce the number of its branches already in the context of the covid pandemic. The building sale had been on the table for some time and the board of directors should have approved it last year.
The building at 42 Wenceslas Square is located in a heritage zone and consists of three buildings, all technologically and structurally connected. In total, it has a total area of 49,600 sqm. The oldest was built as a tenement house designed by Josef Turba at the end of the 19th century. The building facing Wenceslas Square was built for the Postal Cheque Office to a design by František Roith. It is listed, including the interior. The youngest building in the courtyard was built as part of a complete reconstruction in the 1990s.
Komerční banka has previously sold a listed building in Na Příkopě Street in the neighbourhood of the Powder Gate. In 2017, it was bought by German investor HausInvest by Commerz Real for about one and a half billion (€61.3 million). Trinity Bank became the new owner this year. The price of this transaction was not disclosed, but according to an informed source from the real estate market, it exceeded CZK 2 billion (€82 million).
Source: Property Forum