03.01.2023
Brownfield between Milady Horákové and Koliště streets will soon be replaced by a new office building designed by a53 architects. After a complex acquisition process, the land was purchased from the Italian owners by Trikaya, a company specialising in the construction of residential and retail projects in Brno.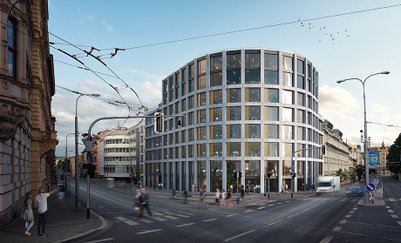 The original Italian owner of the land planned to build a hotel there, but after the acquisition Trikaya decided to develop the land with an eight-storey office building. The ground floor of the building will be used for an open lobby and café connecting the street to the courtyard. The remaining seven floors will be filled with office space, while the last three floors will offer access to outdoor terraces. The building will be dominated by a roof terrace with a garden accessible to all tenants of the building.  
The project will be built in accordance with the LEED green certification system, which is used to assess the quality of buildings. The developer's goal is to receive GOLD level certification. The building is located on the edge of the historic city centre and will be perfectly accessible by public transport as well as by car. 
Trikaya has already received building permits and construction work is expected to start in the first half of this year.
Several other interesting office projects have recently been built in the vicinity of the historic centre of Brno, such as Business Park Vlněna, BC Titanium or ŠUMAVSKÁ tower. 
Source: Trikaya, CzechCrunch