13.04.2023
In recent years, the real estate business of Penta Investments has grown considerably. The company has invested almost CZK 50 billion in residential and office development projects and managed a portfolio worth more than CZK 27 billion at the end of last year. Currently, the group's real estate portfolio is concentrated in Prague and Bratislava. Marek Dospiva, one of the group's co-owners, is considering diversifying the portfolio and expanding abroad.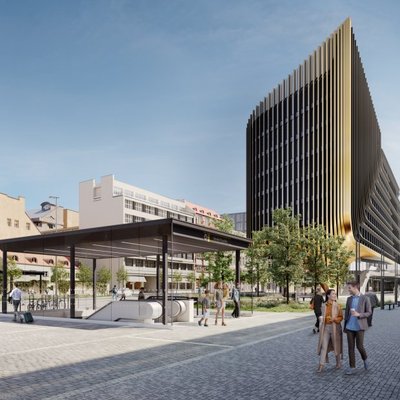 The expansion should be to a major European city. At the moment, the expansion is most likely to start in Germany, however Dospiva is not excluding London, among other cities. In order to secure financing for the costly expansion, the company is exploring the possibility of setting up a real estate fund. Meanwhile, the group is waiting for the real estate market to settle down, as it has been virtually frozen over the past year and the office market in particular has seen only sporadic transactions. 
Real estate funds are among the most attractive funds for Czech investors, this fact is underlined by the high returns that the funds have provided to investors in recent years. Penta only started to focus on property development around 2012, when the construction of their first office building, Florentinum, started. Despite its relatively short time on the market, the group has managed to become one of the most important players in the field of property development in the Czech Republic and Slovakia. Precisely due to the success of the buildings built in recent years, it can be expected that the investment fund will be in great demand among investors. 
Dospiva told the daily E15 that the group would put its most valuable properties into the fund, such as the new Masaryčka project, which was built in cooperation with the Zaha Hadid architectural studio. Penta plans to continue building on major Prague sites in the coming years. Among the planned projects are, for example, construction on the site of the demolished Transgas in Prague's Vinohrady district, on Vítězné náměstí in Dejvice and in the vicinity of the Florenc bus terminal. The group is also considering an extension of the Churchill Square project in Žižkov or new construction in Letňany. 
By the end of last year, Penta had invested EUR 850 million in residential construction in the Czech Republic and Slovakia and nearly EUR 1.2 billion in office development. In total, this amounts to about CZK 50 billion. The group has a further CZK 25 billion ready for investment by the end of 2025. 
In addition to Masarycka, which will open for tenants by the end of this summer, Penta has built many other office buildings in Prague including SmíchOFF, Nová Waltrovka, and Churchill. 
Source: E15, Penta Real Estate