23.12.2022
The gap between OC Forum Nová Karolina and Ostrava's historic Trojahali has already been filled with rough construction of the Organica office building. On the site of a former brownfield, it will offer 23,300 sqm of 2,300 sqm of offices and shops. "We will hand over the space to the first clients for use in the second half of next year." says Martin Budina, project director at Contera.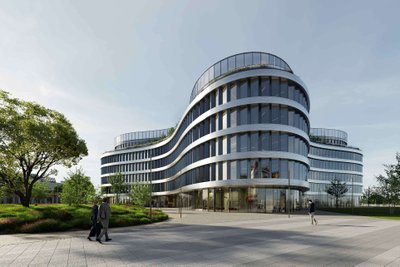 Organica, which was unveiled in 2021 with construction starting in the autumn of the same year, was designed by Schindler Seko Architects. In addition to the specific architectural concept, the organic shapes of the building are complemented by industrial elements and state-of-the-art technology. The façade consists of windows with black aluminium shutters half a metre wide and high across the entire floor. Strips of perforated sheet metal will be placed between the floors. Organica is a distinctive solitaire with a symmetrical plan that imaginatively revolves around a publicly accessible circular atrium with greenery. The building's main tenant is Tietoevry, with other tenants including Individual Fitness and Cokafe. 
Organica has already achieved an Excellent rating in BREEAM certification. Fresh air distribution will be controlled by an intelligent system. The building will control its own heating and cooling according to weather forecasts, as it will include a weather station. Parking will be available via a mobile app, and charging stations for electric cars and electric bikes will find space. USB charging of mobile devices will be possible at the benches, which are located in the quiet area of the atrium. The project also envisages a rainwater harvesting system for watering and photovoltaic panels, which will make Organica partially energy self-sufficient.
Source: Skypaper